History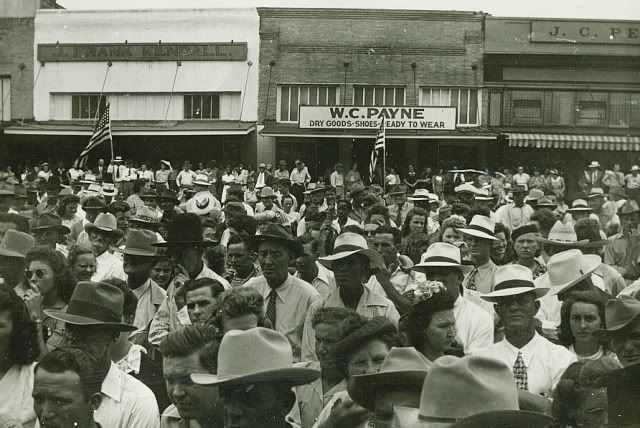 History of Texas Fiddlers Association
In 1932 the Bethel community, six miles north of Athens, decided to stage a county-wide fiddlers contest as a climax to a farmer's study course.  The farmers were unable to find enough bands in the county and decided to make it an East Texas contest.  The first letter, dated April 13, 1932, addressed to the Winnsboro News, requested cooperation of fiddlers in Wood County.  Having no financial backing, two of the farmers pooled their money and guaranteed all expenses including $47.50 for six cash prizes.  The day preceding the contest, a terrific rain storm that continued well into the following day had the farmers trembling with fear that they would lose their all.  The same thing happened the following year.  Both times however, the rain ceased barely in time to permit a full house.
Nine hundred people attended the first contest to hear fourteen string bands.  The audience was asked whether or not the event should be made an annual affair, and the response was so enthusiastic that plans were made to make the contest an annual affair.
The second contest was held May 26, 1933, with part of the proceeds being used to carry on work in the Athens Farm Marketing Association which the farmers had organized to help find markets for their products.  Eight cash prizes totaling $52.50 were awarded.
The following year, cash and merchandise prizes were offered and 25 string bands were registered.  It was necessary for the contest to be held twice to take care of the huge crowd.
It became necessary to move the contest from the High School auditorium to the courthouse lawn to care for the ever increasing crowds.  In 1936, twelve thousand persons attended, and by 1938 the attendance had increased to 25,000 persons.  The depression failed to check the popularity of the contest.
East Texas was noted for fiddlers from the time of Sam Houston and Dave Crockett.  Every house raising, log rolling, quilting bee and corn husking was followed by a night of dancing, the square, waltz and the schottische till dawn.  Fiddlers were in demand and plentiful.  Every young swain had to learn to play for the popularity and a small amount of cash.
So popular has the meet become, that from an attendance of 900 in 1932 to an attendance estimated at 50,000 in 1941, it has become an outstanding celebration in the state.  In 1937, as the participants came from all parts of the state, the name East was dropped and the association has since been known as the Texas Fiddlers Association.